Project Sponsors
Bundesamt für Sicherheit in der Informationstechnik (BSI)
Norwegian Research Council (RCN)
European Commission

Project Partners
Hochschule Darmstadt (CRISP)
NTNU (NBL)
secunet Security Networks AG (SEC)
Salzburg University (Wavelab)
National Institute of Standards and Technology (NIST)
Universita di Bologna (UBO)
Universiteit Twente (UTW)
Fraunhofer (IGD)

Contact
Christoph Busch
Email: christoph.busch

h-da.de
Juan Tapia
Mathias Ibsen
Sushma Venkatesh
Haoyu Zhang
Christian Rathgeb
Raghu Ramachandra
Kiran Raja
Siri Lorenz
Robert Nichols
Daniel Fischer
Morphing Attack Detection (MAD)
Morphing Attacks and Impact
Biometrics refers to the automated recognition of individuals based on their biological and behavioral characteristics. Due to the strong link between subjects and their biometric samples, the wide acceptance, and their user convenience, biometric systems become increasingly popular and important for border control.
Even though the security of biometric systems is increasing, specifically face recognition systems are vulnerable with regard to the unique link between the biometric facial sample and its subject. By enrolling an artificial sample, generated by merging samples of two or multiple subjects in image domain, the contributing subjects might be verified successfully against the manipulated reference. This morphing attack can be done, for instance, in the passport application process, where in most European countries the applicant brings his own printed photograph. This way, the unique link between individuals and their biometric reference data is annulled. The impact of this vulnerability has been illustrated in this video
To prevent the aforementioned face morphing attacks, an automatic detection of morphs is required at border control as well as early in the application process. This must be considered as the most challenging research task to date and long-term research will be need to fully address the challenge. However on this page reports recent progress in this research area.
Application Scenarios
Focusing on the workflow of a generic biometric system, two Morphing Attack Detection (MAD) tasks can be distinguished: (1) detection during enrolment, e.g. the passport application process, where the MAD mechanism processes a one suspected facial image, referred to as single image morphing attack detection (S-MAD) and depicted in the figure on the top; and (2) detection at the time of identity validation, e.g. passing through an Automated Border Control (ABC) gates at borders, where a trusted live capture from the gate serves as additional source of information for the MAD mechanism, referred to as differential morphing attack detection (D-MAD) and depicted in figure at the bottom.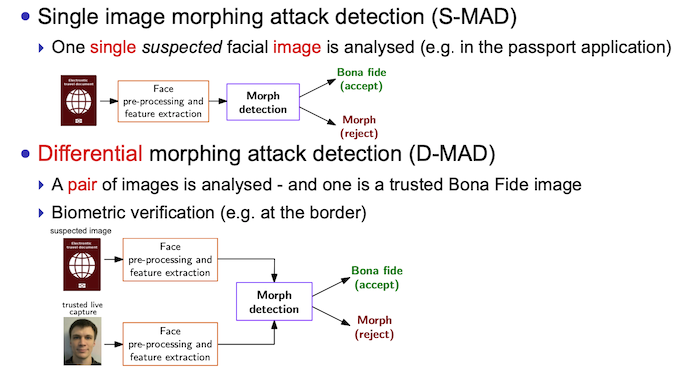 History of Morphing Attacks
The problem of morphing attacks has been addressed in the biometric research community only recently, despite that the issue was discussed back in 2004 in the presentation
Matthew Lewis, Philip Statham: "CESG Biometric Security Capabilities Programme: Method, Results and Research challenges", in Proceedings Biometrics Consortium Conference (BCC), (2004)
and was also classified as vulnerability of a biometric system as early as 2009 in Clause 8.3.8.1 of ISO/IEC FDIS 19792 stating: "… Examples of abnormal characteristics could include those with unusually large or small numbers of features. Such characteristics may not be representative of any human biometric characteristic but could be synthesised and copied to an artefact. Alternatively a synthesised characteristic could be injected electrically during a replay attack or planted in the reference database. - feature sets comprising amalgamations of biometric features from 2 or more individuals, e.g. morphed facial images"
The feasibility of such morphing attacks was first shown for face recognition systems in 2014 in the FIDELITY project by M. Ferrara, A. Franco and D. Maltoni in her IJCB paper "The magic passport".
Detection of Morphing Attacks
With our research we address the problem of morphing attacks. The work has started only recently. In 2016 the first Morphing Attack Detection (MAD) mechanism was proposed by R. Raghavendra, K. Raja and C. Busch in the BTAS paper "Detecting Morphed Facial Images". Since then we have started numerous efforts to address this research challenge. The MAD state of the art is investigated in the SOTAMD project and also in the NIST FRVT MORPH study.
Avoiding Morphing Attacks
In order to avoid morphing attacks in the first place, passport applications should be done with live enrolment, meaning the facial photo is captured under supervision in the application process. The European Regulation 2019/1157 has recommended this in recital 32 of the regulation, which reads: "... To this end, Member States could consider collecting biometric identifiers, particularly the facial image, by means of live enrolment by the national authorities issuing identity cards." This is not a strong enforcement, of what is needed. Unfortunately only a few European countries (e.g. Sweden and Norway) have live enrolment in place. Others (e.g. Germany) are starting now (2020) in recognition of the morphing attack problem. But live-enrolment will be fully operational not before 2025. The discussion in the Bundestag was interesting. You can find my position paper on the draft law here.
MAD Publications by our Group
C. Rathgeb, R. Nichols, M. Ibsen, P. Drozdowski, C. Busch: "Crowd-powered Face Manipulation Detection: Fusing Human Examiner Decisions",in Proceedings of International Conference on Image Processing (ICIP), Bordeaux, FR, October 16-19, (2022)
M. Ferrara, A. Franco, D. Maltoni, C. Busch: "Morphing Attack Potential", in Proceedings of 10th International Workshop on Biometrics and Forensics (IWBF 2022), Salzburg, AT, April 20-21, (2022)PDF-Version
R. Nichols, C. Rathgeb, P. Drozdowski, C. Busch: "Psychophysical Evaluation of Human Performance in Detecting Digital Face Image Manipulations", in IEEE Access, (2022)PDF-Version
M. Ibsen, C. Rathgeb, D. Fischer, P. Drozdowski, C. Busch: "Digital Face Manipulation in Biometric Systems", in Springer Handbook of Digital Face Manipulation and Detection: From DeepFakes to Morphing Attacks, (2022)
U. Scherhag, C. Rathgeb, C. Busch: "Face Morphing Attack Detection Methods", in Springer Handbook of Digital Face Manipulation and Detection: From DeepFakes to Morphing Attacks, (2022)
C. Rathgeb, R. Tolosana, R. Vera-Rodriguez, C. Busch: "Handbook of Digital Face Manipulation and Detection", Springer, (2022)
R. Raghavendra, K. Raja, C. Busch: "Algorithmic Fairness in Face Morphing Attack Detection", in Proceedings IEEE/CVF Winter Conference on Applications of Computer Vision Workshops (WACVW), (2022)
P. Drozdowski, F. Stockhardt, C. Rathgeb, C. Busch: "Signal-level Fusion for Indexing and Retrieval of Facial Biometric Data", in IET Biometrics, (2022)PDF-Version
J. Tapia, C. Busch: "Single Morphing Attack Detection using Feature Selection and Visualisation based on Mutual Information", in IEEE Access, (2021)
S. Lorenz, U. Scherhag, C. Rathgeb, C. Busch: "Morphing Attack Detection: A Fusion Approach", in Proceedings 24th International Conference on Information Fusion, November 1-4, (2021)
H. Zhang, S. Venkatesh, R. Raghavendra, K. Raja, N. Damer, C. Busch: "MIPGAN - Generating Strong and High Quality Morphing Attacks Using Identity Prior Driven GAN", in IEEE Transactions on Biometrics, Behavior, and Identity Science (TBIOM), (2021)PDF-Version
C. Rathgeb, K. Pöppelman, C. Busch: "Face Morphing Attacks: A Threat to eLearning?", in Proceedings of IEEE Global Engineering Education Conference (EDUCON 2021), Vienna, AT, April 21-23, (2021)
S. Venkatesh, R. Raghavendra, K. Raja, C. Busch: "Face Morphing Attack Generation & Detection: A Comprehensive Survey", in IEEE Transactions on Technology and Society (TTS), (2021)PDF-Version
K. Raja, M. Ferrara, A. Franco, L. Spreeuwers, I. Batskos, F. Wit, M. Gomez-Barrero, U. Scherhag, D. Fischer, S. Venkatesh, J. Singh, G. Li, L. Bergeron, S. Isadskiy, R. Raghavendra, C. Rathgeb, D. Frings, U. Seidel, F. Knopjes, R. Veldhuis, D. Maltoni, C. Busch: "Morphing Attack Detection - Database, Evaluation Platform and Benchmarking", in IEEE Transactions on Information Forensics and Security (TIFS), (2020) PDF-Version
L. Quin, F. Peng, S. Venkatesh, R. Raghavendar, M. Long, C. Busch: "Low Visual Distortion and Robust Morphing Attacks Based on Partial Face Image Manipulation", in IEEE Transactions on Biometrics, Behavior, and Identity Science (TBIOM), (2020) PDF-Version
A. Roettcher, U. Scherhag, C. Busch: "Finding the Suitable Doppelgaenger for a Face Morphing Attack", in Proceedings of International Joint Conference on Biometrics (IJCB 2020), Houston, US, September 28 – October 1, (2020) PDF-Version
S. Venkatesh, K. Raja, R. Raghavendra, C. Busch: "On the Influence of Ageing on Face Morph Attacks: Vulnerability and Detection", in Proceedings of International Joint Conference on Biometrics (IJCB 2020), Houston, US, September 28 – October 1, (2020) PDF-Version
U. Scherhag, J. Kunze, C. Rathgeb, C. Busch: "Face Morph Detection for Unknown Morphing Algorithms and Image Sources: A Multi-Scale Block Local Binary Pattern Fusion Approach", in IET Biometrics, (2020) PDF-Version
S. Venkatesh, R. Raghavendra, K. Raja, C. Busch: "Single Image Face Morphing Attack Detection Using Ensemble of Features", in Proceedings of 23rd International Conference on Information Fusion (FUSION 2020), Virtual Conference, July 6-9, (2020) PDF-Version
U. Scherhag, C. Rathgeb, J. Merkle, C. Busch: "Deep Face Representations for Differential Morphing Attack Detection", in IEEE Transactions on Information Forensics and Security (TIFS), (2020) PDF-Version
S. Venkatesh, H. Zhang, R. Raghavendra, K. Raja, N. Damer, C. Busch: "Can GAN Generated Morphs Threaten Face Recognition Equally as Landmark Based Morphs? - Vulnerability and Detection", in Proceedings of 8th International Workshop on Biometrics and Forensics (IWBF 2020), Porto, PT, April 29 - 30, (2020) PDF-Version
S. Venkatesh, R. Raghavendra, K. Raja, L. Spreeuwers, R. Veldhuis, C. Busch: "Detecting Morphed Face Attacks Using Residual Noise from Deep Multi-scale Context Aggregation Network", in Proceedings of Winter Conference on Applications of Computer Vision (WACV '20), Colorado, US, March 1-5, (2020) PDF-Version
J. Merkle, C. Rathgeb, U. Scherhag, C. Busch: "Morphing-Angriffe: Ein Sicherheitsrisiko für Gesichtserkennungssysteme", in Datenschutz und Datensicherheit (DuD), Vol. 44, no. 1, pp. 26-31, (2020) PDF-Version
J. Singh, S. Venkatesh, K. Raja, R.Raghavendra, C. Busch: "Robust Morph-Detection at Automated Border Control Gate using Deep Decomposed 3D Shape & Diffuse Reflectance", in Proceedings of the 15th International Conference on Signal Image Technology & Internet Based Systems (SITIS 2019), November 26-29, Sorrento - Naples, IT, (2019) PDF-Version
S. Venkatesh, R. Raghavendra, K. Raja, L. Spreeuwers, R. Veldhuis, C. Busch: "Morphed Face Detection Based on Deep Color Residual Noise", in Proceedings of the ninth International Conference on Image Processing Theory, Tools and Applications (IPTA 2019), Istanbul, Turkey, November 6-9, (2019) PDF-Version
C. Busch, S. Caillebotte, U. Seidel, F. Knopjes, D. Maltoni, M. Ferrara, R. Veldhuis, L. Spreeuwers, K. Raja, R. Raghavendra, M. Gomez-Barrero, C. Rathgeb: "Face Morphing Attacks: What needs to be done ", in Proceedings International Conference on Biometrics for Borders (ICBB), Frontex, Warsaw, October 9-10, (2019)PDF-Version
J. Merkle, C. Rathgeb, U. Scherhag, C. Busch, R. Breithaupt: "Face Morphing Detection: Issues and Challenges ", in Proceedings International Conference on Biometrics for Borders (ICBB), Frontex, Warsaw, October 9-10, (2019)PDF-Version
U. Scherhag, L. Debiasi, C. Rathgeb, C. Busch and A. Uhl: "Detection of Face Morphing Attacks based on PRNU Analysis", in IEEE TBIOM, (2019)PDF-Version
U. Scherhag, C. Rathgeb, J. Merkle, R. Breithaupt, C. Busch: "Face Recognition Systems under Morphing Attacks: A Survey", in IEEE Access, (2019)PDF-Version
P. Drozdowski, C. Rathgeb, C. Busch: "Turning a Vulnerability into an Asset: Accelerating Facial Identification with Morphing", in Proceedings of the International Conference on Acoustics, Speech and Signal Processing (ICASSP 2019), Brighton, U.K., May 12-17, (2019)PDF-Version
R.Raghavendra, S. Venkatesh, K. Raja, C. Busch: "Towards making Morphing Attack Detection robust using hybrid Scale-Space Colour Texture Features", in Proceedings of 5th International Conference on Identity, Security and Behaviour Analysis (ISBA 2019), Hyderabad, IN, January 22-24, (2019)PDF-Version
L. Debiasi, C. Rathgeb, U. Scherhag, A. Uhl, C. Busch:"PRNU Variance Analysis for Morphed Face Image Detection", in Proceedings of 9th International Conference on Biometrics: Theory, Applications and Systems (BTAS 2018), Los Angeles, US, October 22-25, (2018)PDF-Version
R.Raghavendra, S. Venkatesh, K. Raja, C. Busch: "Detecting Face Morphing Attacks with Collaborative Representation of Steerable Scale-Space Features", in Proceedings of 3rd International Conference on Computer Vision and Image Processing (CVIP 2018), Japalpur, IN, September 29 - October 1, (2018)PDF-Version
U. Scherhag, D. Budhrani, M. Gomez-Barrero, C. Busch: "Detecting Morphed Face Images Using Facial Landmarks", in Proceedings of International Conference on Image and Signal Processing (ICISP 2018), Cherbourg, FR, July 2-4, (2018)PDF-Version
U. Scherhag, C. Rathgeb, C. Busch: "Performance Variation of Morphed Face Image Detection Algorithms across different Datasets", in Proceedings of 6th International Workshop on Biometrics and Forensics (IWBF 2018), Sassari, IT, June 7-8, (2018)PDF-Version
L. Debiasi, U. Scherhag, C. Rathgeb, A. Uhl, C. Busch: "PRNU-based Detection of Morphed Face Images", in Proceedings of 6th International Workshop on Biometrics and Forensics (IWBF 2018), Sassari, IT, June 7-8, (2018)PDF-Version
U. Scherhag, C. Rathgeb, C. Busch: "Detection of Morphed Faces from Single Images: a Multi-Algorithm Fusion Approach", in Proceedings if of the 2nd International Conference on Biometric Engineering and Applications (ICBEA 2018), Amsterdam, The Netherlands, May 16-18, (2018)PDF-Version
U. Scherhag, C. Rathgeb and C. Busch: "Towards Detection of Morphed Face Images in electronic Travel Documents", in Proceedings of the 13th IAPR International Workshop on Document Analysis Systems (DAS 2018), Vienna, Austria, April 24-27, (2018)PDF-Version
M. Gomez-Barrero, C. Rathgeb, U. Scherhag, C. Busch: "Predicting the Vulnerability of Biometric Systems to Attacks based on Morphed Biometric Samples", in IET Biometrics, (2018)PDF-Version
C. Rathgeb, C. Busch: "On the Feasibility of Creating Morphed Iris-Codes", in Proceedings of International Joint Conference on Biometrics (IJCB 2017), Denver, Colorado, October 1-4, (2017)PDF-Version
R. Raghavendra, K. Raja, S. Venkatesh, C. Busch: "Face Morphing Versus Face Averaging: Vulnerability and Detection", in Proceedings of International Joint Conference on Biometrics (IJCB 2017), Denver, Colorado, October 1-4, (2017)PDF-Version
U. Scherhag, A. Nautsch, C. Rathgeb, M. Gomez-Barrero, R. Veldhuis, L. Spreeuwers, M. Schils, D. Maltoni, P. Grother, S. Marcel, R. Breithaupt, R. Raghavendra, C. Busch: "Biometric Systems under Morphing Attacks: Assessment of Morphing Techniques and Vulnerability Reporting", in Proceedings of the IEEE 16th International Conference of the Biometrics Special Interest Group (BIOSIG), Darmstadt, September 20-22, (2017)PDF-Version
R. Raghavendra, K. Raja, S. Venkatesh, C. Busch: "Transferable Deep-CNN features for detecting digital and print-scanned morphed face images", in Proceedings of 30th International Conference on Computer Vision and Pattern Recognition Workshop (CVPRW 2017), Honolulu, Hawaii, July 21-26, (2017)PDF-Version
M. Gomez-Barrero, C. Rathgeb, U. Scherhag, C. Busch: "Is Your Biometric System Robust to Morphing Attacks?", in Proceedings of 5th International Workshop on Biometrics and Forensics (IWBF 2017), Coventry, UK, April 4-5, (2017)PDF-Version
U. Scherhag, R. Raghavendra, K. Raja, M. Gomez-Barrero, C. Rathgeb, C. Busch: "On The Vulnerability Of Face Recognition Systems Towards Morphed Face Attacks", in Proceedings of 5th International Workshop on Biometrics and Forensics (IWBF 2017), Coventry, UK, April 4-5, (2017)PDF-Version
R. Raghavendra, K. Raja, C. Busch: "Detecting Morphed Facial Images", in Proceedings of 8th IEEE International Conference on Biometrics: Theory, Applications and Systems (BTAS-2016), September 6-9, Niagra Falls, USA, (2016)PDF-Version
Further Information
Talks on MAD
Morphing Attack Databases