Project Sponsors
Bundesamt für Sicherheit in der Informationstechnik (BSI)
Norwegian Research Council (RCN)
European Commission

Project Partners
Hochschule Darmstadt (CRISP)
NTNU (NBL)
secunet Security Networks AG (SEC)
Salzburg University (Wavelab)
National Institute of Standards and Technology (NIST)
Universita di Bologna (UBO)
Universiteit Twente (UTW)

Contact
Christoph Busch
Email: christoph.busch

h-da.de
Christian Rathgeb
Ulrich Scherhag
Raghu Ramachandra
Kiran Raja
Marta Gomez-Barrero
Sergey Isadskiy
Daniel Fischer
Morphing Attack Detection (MAD)
Morphing Attacks and Impact
Biometrics refers to the automated recognition of individuals based on their biological and behavioral characteristics. Due to the strong link between subjects and their biometric samples, the wide acceptance, and their user convenience, biometric systems become increasingly popular and important for border control.
Even though the security of biometric systems is increasing, specifically face recognition systems are vulnerable with regard to the unique link between the biometric facial sample and its subject. By enrolling an artificial sample, generated by merging samples of two or multiple subjects in image domain, the contributing subjects might be verified successfully against the manipulated reference. This morphing attack can be done, for instance, in the passport application process, where in most European countries the applicant brings his own printed photograph. This way, the unique link between individuals and their biometric reference data is annulled. The impact of this vulnerability has been illustrated in this video
To prevent the aforementioned face morphing attacks, an automatic detection of morphs is required at border control as well as early in the application process. This must be considered as the most challenging research task to date and long-term research will be need to fully address the challenge. However on this page reports recent progress in this research area.
Application Scenarios
Focusing on the workflow of a generic biometric system, two Morphing Attack Detection (MAD) tasks can be distinguished: (1) detection during enrolment, e.g. the passport application process, where the MAD mechanism processes a single image, referred to as no-reference morphing attack detection and depicted in Figure (a); and (2) detection at the time of authentication, e.g. the usage of Automated Border Control (ABC) gates at borders, where a live capture from an authentication attempt serves as additional source of information for the MAD mechanism, referred to as differential morphing detection and depicted in Figure (b).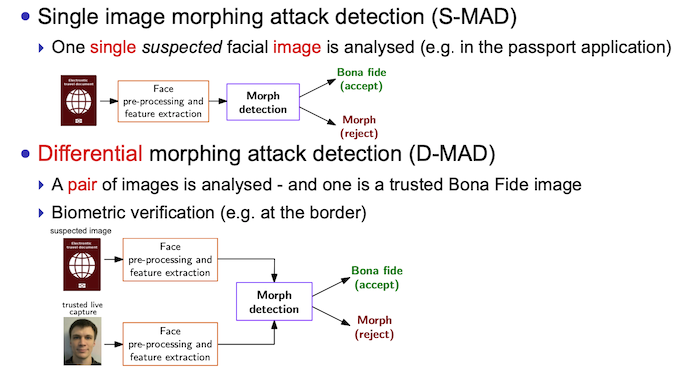 History of Morphing Attacks
The problem of morphing attacks has been addressed in the biometric research community only recently, despite that the issue was discussed back in 2004 in the presentation
Matthew Lewis, Philip Statham: "CESG Biometric Security Capabilities Programme: Method, Results and Research challenges", in Proceedings Biometrics Consortium Conference (BCC), (2004)
and was also classified as vulnerability of a biometric system as early as 2009 in Clause 8.3.8.1 of ISO/IEC FDIS 19792 stating: "… Examples of abnormal characteristics could include those with unusually large or small numbers of features. Such characteristics may not be representative of any human biometric characteristic but could be synthesised and copied to an artefact. Alternatively a synthesised characteristic could be injected electrically during a replay attack or planted in the reference database. - feature sets comprising amalgamations of biometric features from 2 or more individuals, e.g. morphed facial images"
The feasibility of such morphing attacks was first shown for face recognition systems in 2014 in the FIDELITY project by M. Ferrara, A. Franco and D. Maltoni in her IJCB paper "The magic passport".
Detection of Morphing Attacks
With our research we address the problem of morphing attacks. The work has started only recently. In 2016 the first Morphing Attack Detection (MAD) mechanism was proposed by R. Raghavendra, K. Raja and C. Busch in the BTAS paper "Detecting Morphed Facial Images". Since we have started numerous efforts to address this research challenge.
MAD Publications by our Group
Further Information